Pile foundation design using Repute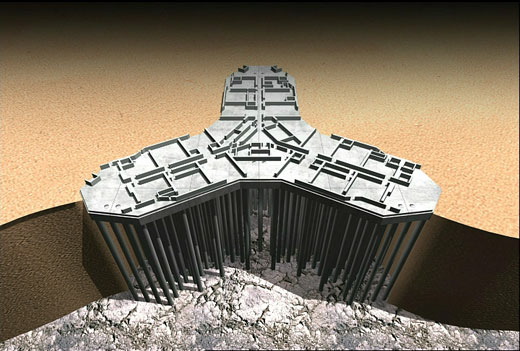 Repute software is used for the design of pile foundations in thousands of major projects worldwide, including Burj Khalifa (the world's tallest building, Dubai), Nakheel Tower (Dubai), Pentominium Tower (Dubai), Opera Grand tower (Dubai), London Wembley Stadium (UK), High Speed 2 (UK), High Speed 1 (formerly known as Channel Tunnel Rail Link, UK), Crossrail (UK), Incheon Tower (South Korea), Dubai Towers (Doha, Qatar), Milan-Naples motorway (Italy), and many others.
Our case studies show how the use of Repute in pile group analysis and design results in a more realistic picture of the group deformation response and load distribution between piles. The basic importance of Repute non-linear soil model to examine the load distribution in groups of piles is that it has the desirable effect of avoiding exaggeration of stresses at corner/edge piles (as predicted by linear elastic models), thereby reducing consequent high forces and moments. Further Repute, by taking into account the continuous nature of pile-soil interaction, removes the limitations and uncertainties of t-z and p-y curve approaches (which rely on empirical parameters such as the modulus of subgrade reaction) and provides a simple design tool based on conventional soil parameters.
The following case studies are presented:
• New Wembley Stadium, London (UK)
• The Burj Khalifa, Dubai, UAE
• North London railway viaducts (High Speed 1), UK
• Square Kilometer Array (SKA) Project, South Africa
• The Nakheel Tower, Dubai, UAE