Burj Khalifa, Dubai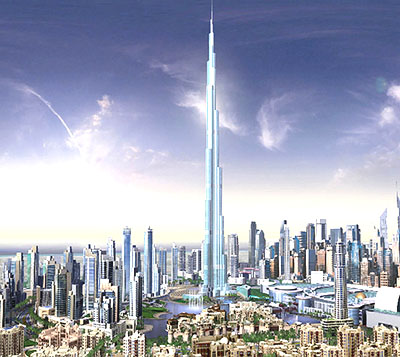 Repute has been used by Hyder Consulting (UK/Middle East) for the design of pile foundations for the Burj Khalifa, the world's tallest building. The $1 billion skyscraper is 828m tall and features 160 floors, 58 elevators, luxury apartments, swimming pools, hotels and a 124th floor observation platform.
The tower's 192 piles have been constructed to depths of more than 50 metres and are bound together by a 3.7 metre thick concrete raft across 8,000 square metres, encompassing the tower's entire footprint. Numerical analyses using the software Repute were performed by the designers (including Prof. Harry Poulos) in order to study the load-settlement behavior and load distribution in the piles.
For further details on the design, refer to the paper by Poulos & Bunce "Foundation design for the Burj Dubai - The World's Tallest Building" (Proc. 6th Int. Conf. on Case Histories in Geotechnical Engineering and Symp. in Honor of Prof. J.K. Mitchell, August 2008, Arlington, Usa, Paper No. 1.47, pp. 1-16).