New Wembley Stadium, London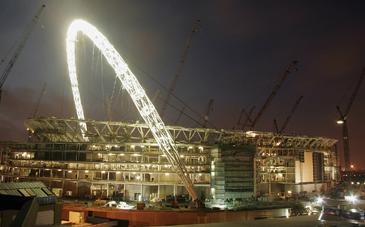 Repute has been used by Mott MacDonald (UK) for the design of pile foundations for the new Wembley Stadium in London, the largest football stadium in the world with every seat under cover.
Its main architectural feature is a 316m wide triumphal arch, the world's longest single-span roof structure. The most critical engineering activity during the stadium construction was raising the arch to its final position (112 degrees). During raising of the arch, monitoring was installed to determine the movements of its pile foundations. It has been found that the predicted movements from Repute correlated very well with the observed movements, thereby showing the importance of non-linear soil behaviour in modelling pile groups. If linear analyses had been undertaken, the movements and structural forces could have been under or over estimated by a considerable amount, and the safety of the arch lift could have been compromised.
For further details on the project, refer to the presentation by Francesco Basile at Italferr and the paper by Hardy & O'Brien "Non-linear analysis of large pile groups for the new Wembley stadium" (Proc. 10th Int. Conf. on Piling and Deep Foundations, May 2006, Amsterdam, The Netherlands, pp. 303-310).