Taormina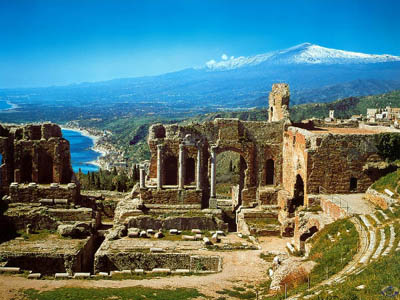 If you can tear yourself away from the peace of Villa Suk, a couple of miles away is the stunning town of Taormina, the "Pearl of the Mediterranean", easily reachable by bus, taxis or with the help of a panoramic cable car located 15 minutes walk away (this takes you in the centre of Taormina in a couple of minutes).
Idyllically perched on a rocky promontory high above the sea with Mount Etna brooding in the background, its location is a breathtaking collage of mountains, azure seas and dramatic cliffs topped by a stunning Greco-Roman amphitheatre dating back to the 3rd century BC (see right picture). Taormina is like a treasure chest of history: walking along its main traffic-free street, Corso Umberto, and the maze of narrow streets and small beautiful squares, you will find theatres and gymnasiums from the Greek age, Odeon and baths from the Roman age, stunning buildings in which the Arab and the Norman cultures melt together in a memorable sense of beauty. Small shops selling local crafts, designer boutiques, romantic candlelit bars and sparkling restaurants, tucked away among the medieval streets of the old town, add to Taormina's charm. And if you're lucky enough to coincide your visit with the Taormina Art Festival, you'll be treated to a fantastic programme of international music, theatre, art, opera, dance and film.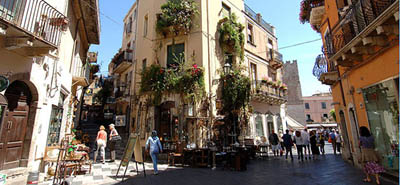 Holidays in Taormina are also about enjoying the Sicilian passion for food and drink. Whatever you're doing, it'll feel even better paired with a glass of almond wine, homemade pizza or steaming espresso. Add a superb all-year round climate and the locals' irresistible zest and hospitality and you're sure of a memorable time here. Note that, whilst Taormina can be quite hot and busy during July and August, crowded with Italian tourists, it is far more pleasant and less busy during the rest of the year.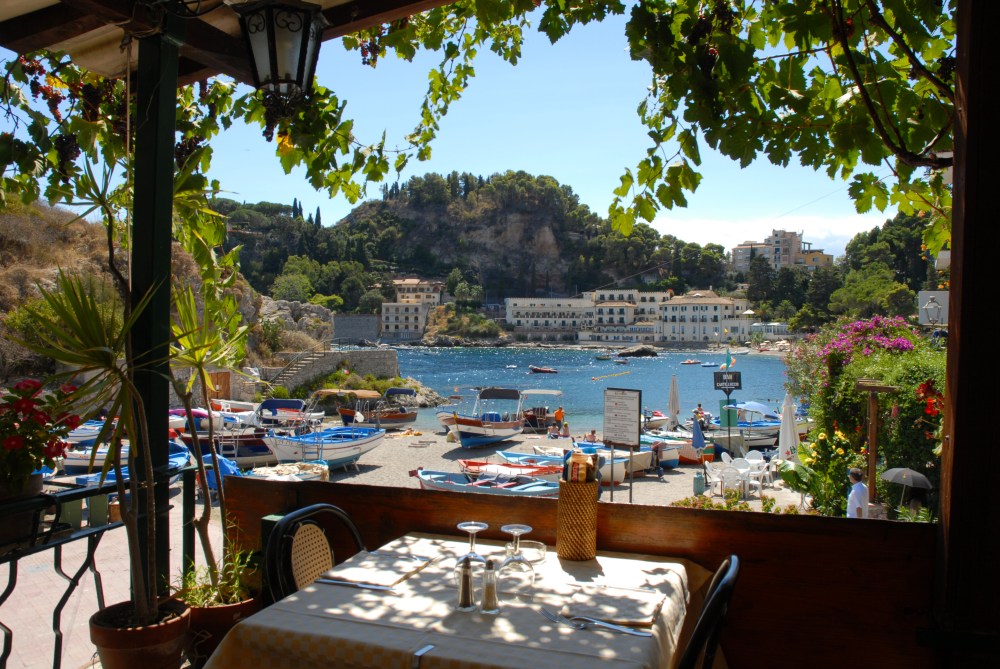 Some of Taormina's finest beaches are within a short walking distance (10mins) from Villa Suk: choose from Mazzaro (see left picture), Capo Taormina, Spisone and gorgeous Isola Bella bay for idyllic hours catching the rays, trying out water sports or enjoying the many local boat excursions. Within easy reach of Taormina is Mount Etna volcano (30 mins drive) for a cool day immersed in nature (including the stunning golf course Il Picciolo with spectacular and scenic views for all 18 holes, set among among oaks, hazels and vineyards), the medieval village of Castelmola (15 mins) with its narrow streets and breathtaking views, Alcantara valley with its magnificent gorges (15 mins), and the town of Catania (40 mins) with its historical buildings and monuments, elegant shops and vibrating nightlife.