Sicily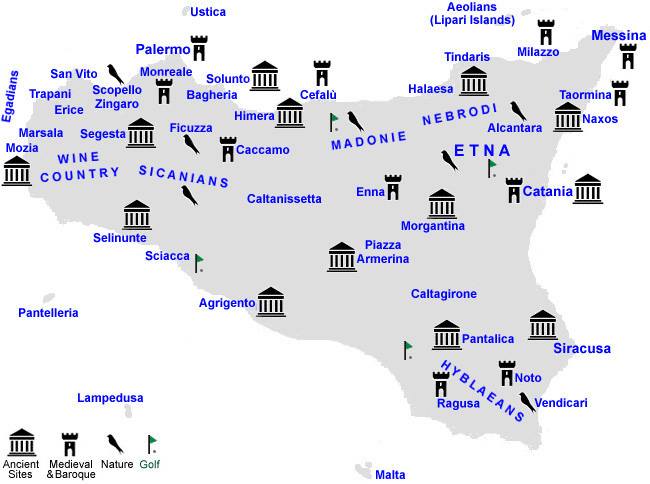 sightseeing
You may want to visit the new Visit Sicily website for ideas on places to see and activities to do in Sicily. If you decide to go with a tour operator departing from Taormina, some of the finest excursions are organised by the Sicilian Airbus Travel Group. The multilingual excursion programme includes the major Sicilian destinations, such as Mount Etna volcano, Etna valley & Alcantara gorges, the Aeolian Islands (Lipari, Vulcano, Stromboli and Panarea), Siracusa & its historical centre Ortigia, Piazza Armerina & Villa Romana del Casale with its mosaics, Agrigento & its Greek temples, Palermo, Monreale & Cefalu'. Note that from April to October the excursion programme provides daily departures while from November to March the activity is reduced.
Mount Etna volcano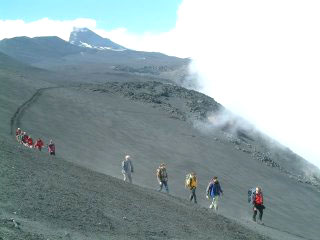 With a height of 3,323 meters, Mount Etna is Sicily's highest mountain as well as being Europe's highest active volcano. At only 30mins drive from Taormina, Mount Etna offers a wide range of outdoor activities, including skiing, golf, trekking, hill-walking, mountain biking, excursions by 4WD vehicles, etc. Climbing up Etna is a unique, exciting experience. There are two main points of departure for a trip on Etna: Etna Sud (la Sapienza) from which you may either walk or take the cable car to 2,900m, from there it is a 2-4 hour round trip to the summit craters, although there is no need to go that far to get a good feel for the majesty of the mountain. The other point of departure is Etna Nord (Piano Provenzana) from where you may walk or take 4X4 buses up to the observatory at 2,400m. You may walk to the summit craters from there, however we would strongly discourage you from doing this without a qualified guide. A trip on the old Circumetnea train that takes you to the villages around the volcano is also extremely worthwhile. One of these villages is Randazzo, that has beautiful medieval architecture and Linguaglossa, with its characteristic buildings in lava and sand stone. If you stop in Linguaglossa, we recommend you visit the Ethnographic Museum of Etna and the wonderful Etna Park, a splendid green oasis that stretches out over 58,000 hectares. The luxuriant vegetation that grows at the foot of Etna changes depending on the altitude, Mediterranean scrub, chestnut woods, oak trees, pine trees, beech trees and birch trees, and higher up there are green meadows that lead to the permanently snow-capped peak of the volcano. Love for nature is not the only reason for a trip to Etna: this area is so rich that many types of Sicilian products are grown here and can be tried out in one of the many restaurants of the area.
Wine-tasting (Etna volcano)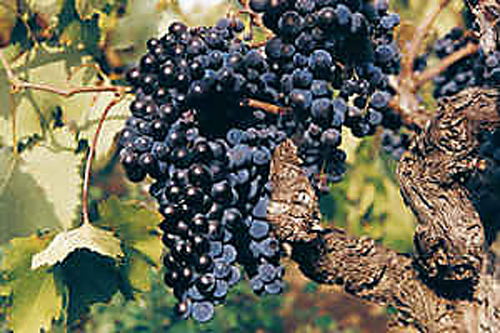 Sicily has been producing wine for millennia and today many of the island's vintages are achieving international acclaim that was previously the reserve of northern wines. As such, any trip to Sicily would not be complete without a wine-tasting tour of some of the best "cantine" on the map. A drive to Mount Etna would give you the chance to learn the secrets of Sicilian wine production and experiment with local grape varieties; the lava terrain and minerals make the wine in this area really unique and different from any other Sicilian wine. We recommend four different itineraries by car which will take you to the best cantine and vineyards of Mount Etna: La Via della Zagara, La Maremonti, La Via dei Castelli (recommended), and La Littorina dell'Etna.
Skiing on Mount Etna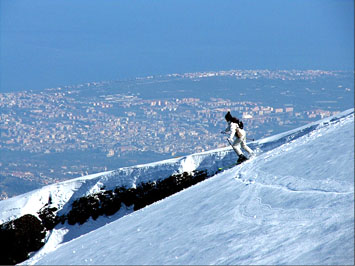 Have you ever considered snow skiing along the slopes of an active volcano? Well you can! Visitors to Sicily between December and March can enjoy spectacular skiing on the impressive slopes of Mount Etna (45mins drive from Taormina). Mount Etna offers 1400 meters of downhill, cross-country and alpine skiing. Snowboarding is very popular above 2000 meters as there are no trees at that level. There are two main skiing stations on Mount Etna: Rifugio Sapienza in the south and Piano Provenzana in the north. Both offer hotels, chalets, ski lifts, ski rentals and expert skiing instruction. Crowds are rare during the week and there is an enormous range of alternative activities in the area for those who don't wish to ski.
Golf (Etna volcano)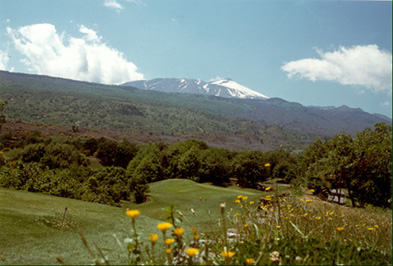 Il Picciolo Golf Club offers the opportunity to play golf in a spectacular location (the slopes of Mount Etna volcano) without the crowds, slow play and high green fees that are typical of many of the more established golfing destinations elsewhere in Europe. With breathtaking and scenic views for all 18 holes, set among among lava flows, oaks, hazels and vineyards, Il Picciolo is the oldest course in Sicily and has played host to a number of international tournaments, including Ladies' European Tour events.
Alcantara gorges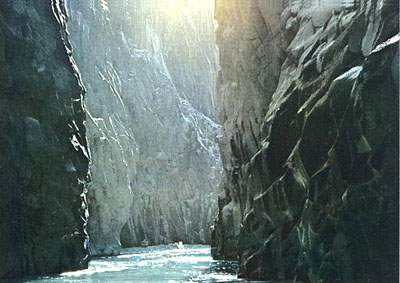 The Alcantara gorges can be easily reached (20mins drive or bus with Interbus) by following the main road inland (Strada Statale 185) towards Francavilla di Sicilia for 13 kilometres. This natural monument of basalt rock was created by the eruption of the volcano Monte Moio when the lava flow invaded the entire valley of the Alcantara river reaching a thickness of 70 metres. While still white-hot, and due to a telluric settling, a sinuous longitudinal crack opened in the lava over a length of 500 metres, 70 metres deep and five metres wide, thus assuming the appearance of a gorge. Only later, all the waters of the catchment basin feeding the Alcantara river flowed into the fissure and from this derived the name "Alcantara gorges". The gorges are reached by way of a scenic footpath or by means of modern elevators (just check opening periods). To reach the entrance of the gorge, the use of wading boots is recommended, which can be hired at the site; these are a useful protection against the icy water and spiky rocks. The gorge is always a dangerous place for non-experts and those who are unfamiliar with the site.
Tennis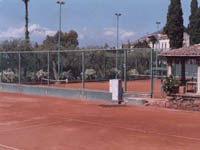 You can play tennis on three excellent red clay courts at the "Taormina Tennis Club" located in the centre of Taormina, just off Corso Umberto, within the spectacular botanic gardens of "Villa Comunale".
Stromboli volcano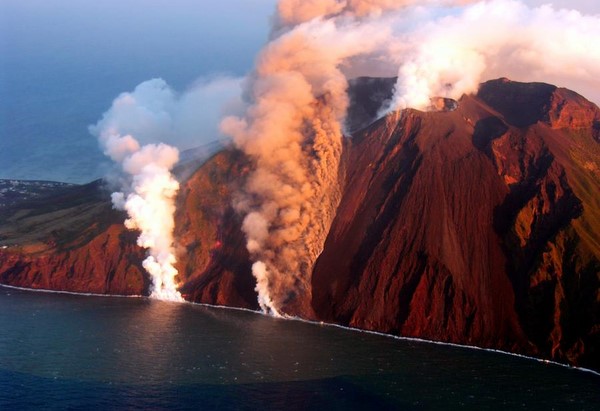 With a height of 900 meters, Stromboli is one of the very few volcanoes in the world that is in near-constant activity. It offers visitors a relatively easy access to a vantage point where its fireworks can be observed from very close range in reasonable safety. In most conditions you can hike unaccompanied to an elevation of 400 meters, but beyond this level you will need a qualified guide. A reliable guide service is Magmatrek who organises daily excursions during summer. In addition, the island of Stromboli with its particularly addictive charm, magnificient black-sand beaches, tranquil setting (no cars) and beautiful white houses, is always worth a visit.