Historical sightseeing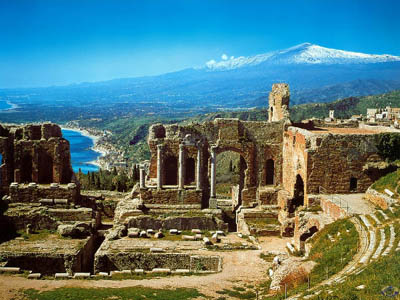 Over 2,500 years at a strategic crossroads of the western world have left Sicily with an unparalleled historical legacy. Nowhere else have Phoenecians, Greeks, Romans, Byzantines, Arabs, Normans, French, Germans, Spanish, Italians and even British left such an indelible impression. Whether you are more attracted by Greek temples, Roman villas and aqueducts, Norman cathedrals or Baroque churches, Sicily offers a range of historical sites that is not easily matched. Villa Anna is an excellent base to explore eastern Sicily, including Tindari with its Sanctuary and Greek-Roman remains (at 35mins drive), the medieval town of Taormina with its stunning Greek theatre (at 40 mins), the old-age towns of the Nebrodi Mountains, Siracusa and its historical centre Ortigia (UNESCO World Heritage site), Villa Romana del Casale with its mosaics (UNESCO WH site), the late baroque towns of the Val di Noto (Caltagirone, Militello Val di Catania, Catania, Modica, Noto, Palazzolo Acreide, Ragusa and Scicli, all UNESCO WH sites).
Swimming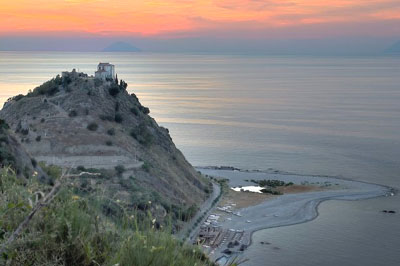 The beautiful sandy beaches of Villafranca Tirrena and Ortoliuzzo are only 5 mins drive away while some of the finest beaches of the northern Sicilian coast are within easy driving distance: Venetico (15 mins drive) with its enchanting and well equipped beaches, Milazzo (at 25 mins) with its magnificent Ponente and Tono beaches, Tindari (at 35 mins) which owes its fame to its shingle beach, stretching underneath the promontory where the Sanctuary of the miraculous Black Madonna rises. Just past Tindari is the charming seaside resort of Capo d'Orlando (at 50 mins) which is rich in inlets, ravines and small bays. Testa di Monaco and San Gregorio's long sandy beaches are worth a stopover. You should not miss a day trip to the stunning Aeolian Islands which are only a short hop on the hydrofoil from Milazzo (at 25 mins) and offer wonderful sea-swimming and snorkelling as well as a unique beauty, fascinating geophysical characteristics (two of the islands are active volcanoes!), and a wealth of history. Last but not least, the world-famous beaches of Taormina on the Ionian sea are only 40 mins drive away.
Hill walking, horse-riding and mountain-biking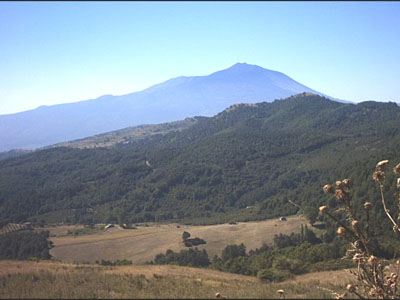 The Nebrodi Mountains, "an island within the island", host a unique and wonderful ecosystem, marked by thick woods, age-old villages, high pastures, abundance of lakes, rivers and natural springs, and a wide variety of plants and animals. The Nebrodi National Park, with a surface area of over 85,000 hectares, it is the largest in Sicily. Cool, green and untouched, it is a haven for naturalists and bird-watchers, offering superb walking, horse-riding and mountain-biking opportunities. The hill towns and villages of the Nebrodi, with their abundance of beautiful Byzantine-Greek churches and monasteries, unspoiled squares and stunning views, are fabulously free of tourism, even in the peak season. Novara di Sicilia, Montalbano Elicona, San Marco d'Alunzio, San Salvatore di Fitalia, just to name a few, are villages where one has the feeling that time has stood still for the past fifty years.
Aeolian Islands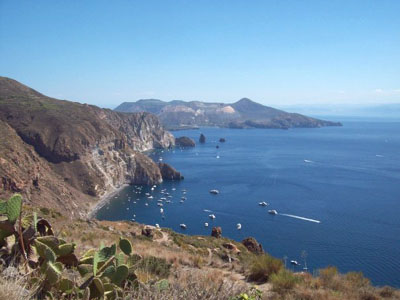 For breathtaking beaches and hidden getaways, do not miss a day trip to the Aeolian Islands, easily reachable from Milazzo (25 mins drive) by hydrofoil. Each of the seven islands has an individual character and there is something for everyone: swimming, sunbathing, diving and snorkelling (Lipari or Panarea); mud baths and thermal spas (Vulcano); green and vineyards (Salina); walks and volcanic visits (Stromboli); or just windswept isolation and superb beaches (Filicudi and Alicudi). Lipari is the largest island and has the most developed tourist infrastructure; there's a popular beach at Canneto, a few kilometres north of the town of Lipari. Another good beach is the spiaggia "Sabbie Nere" (Black Sand Beach) on Vulcano, the closest of the islands to the mainland. The active volcano on Stromboli is also popular (see below for info about excursions), and its lava is captivating at night.
Taormina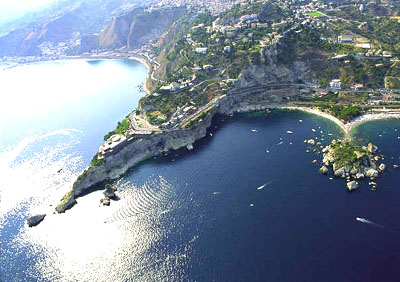 The "Pearl of the Mediterranean", 35mins drive away from Villa Anna, is a breathtaking collage of mountains, azure seas and dramatic cliffs topped by a stunning Greek-Roman amphitheatre dating back to the 3rd century BC. Taormina is like a treasure chest of history: walking along its main traffic-free street, Corso Umberto, and the maze of narrow streets and beautiful squares, you will find theatres and gymnasiums from the Greek age, Odeon and baths from the Roman age, stunning buildings in which the Arab and the Norman cultures melt together in a memorable sense of beauty. Stunning beaches, small shops selling local crafts, designer boutiques, romantic candlelit bars and sparkling restaurants, tucked away among the medieval streets of the old town, add to Taormina's charm.
Tindari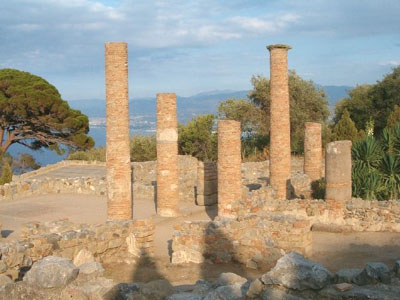 Complete with stunning views of the Tyrrhenian Sea, the Aeolian Islands, the tongue of sand and the Sicilian coastline, Tindari (35 mins drive away from Villa Anna) is one of the most interesting archaeological sites in Sicily. Driving along the Messina-Palermo motorway between Milazzo and Capo d'Orlando, you will notice what seems to be a large church perched on a rock high above the sea. This is the Sanctuary of the Black Madonna of Tindari, a place of pilgrimage but also the site of an ancient Greek town. The southern part of the hill on which ancient Tindari stood is protected by the original Greek walls, but most of the remains are on the north-western sea-facing side. Here there are Roman habitations and baths, complete with wonderful floor mosaics and ingenious radiator heating systems. Further on is the Basilica, a fine example of Greek-Roman architecture built around a series of arches, and the well-preserved theatre, built in the 4th Century BC. Here, in the summer months, it is possible to see performances of Greek plays and other theatrical events.
Mount Etna volcano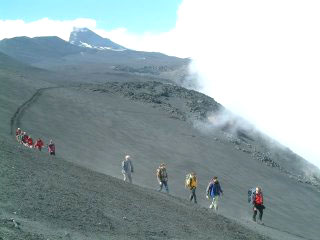 With a height of 3,323 meters, Mount Etna is Sicily's highest mountain as well as being Europe's highest active volcano. At little over 1 hour's drive from Villa Anna, Mount Etna offers a wide range of outdoor activities, including skiing, golf, trekking, hill-walking, mountain biking, excursions by 4WD vehicles, etc. Climbing up Etna is a unique, exciting experience. There are two main points of departure for a trip on Etna: Etna Sud (la Sapienza) from which you may either walk or take the cable car to 2,900m, from there it is a 2-4 hour round trip to the summit craters, although there is no need to go that far to get a good feel for the majesty of the mountain. The other point of departure is Etna Nord (Piano Provenzana) from where you may walk or take 4X4 buses up to the observatory at 2,400m. You may walk to the summit craters from there, however we would strongly discourage you from doing this without a qualified guide. A trip on the old Circumetnea train that takes you to the villages around the volcano is also extremely worthwhile. One of these villages is Randazzo, that has beautiful medieval architecture and Linguaglossa, with its characteristic buildings in lava and sand stone. If you stop in Linguaglossa, we recommend you visit the Ethnographic Museum of Etna and the wonderful Etna Park, a splendid green oasis that stretches out over 58,000 hectares. The luxuriant vegetation that grows at the foot of Etna changes depending on the altitude, Mediterranean scrub, chestnut woods, oak trees, pine trees, beech trees and birch trees, and higher up there are green meadows that lead to the permanently snow-capped peak of the volcano. Love for nature is not the only reason for a trip to Etna: this area is so rich that many types of Sicilian products are grown here and can be tried out in one of the many restaurants of the area.
Grape and olive harvest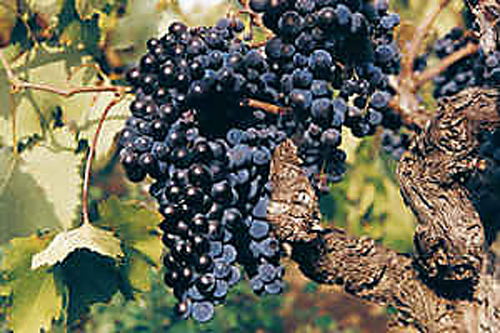 Villa Anna is set in over 8000 square meters of land including olive groves, fruit trees and a vineyard. The grape harvest takes place in September, while the olives are usually hand-picked and cold pressed in the old traditional way in October. Our guests are welcome to watch or to take part of this truly unique experience and we can also recommend you some good wine tasting tour.
Wine-tasting (Etna volcano)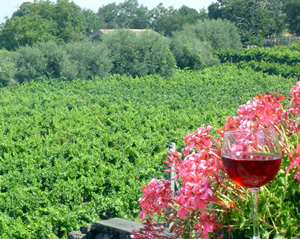 Sicily has been producing wine for millennia and today many of the island's vintages are achieving international acclaim that was previously the reserve of northern wines. As such, any trip to Sicily would not be complete without a wine-tasting tour of some of the best "cantine" on the map. A drive to Mount Etna would give you the chance to learn the secrets of Sicilian wine production and experiment with local grape varieties; the lava terrain and minerals make the wine in this area really unique and different from any other Sicilian wine. We recommend four different itineraries by car which will take you to the best cantine and vineyards of Mount Etna: La Via della Zagara, La Maremonti, La Via dei Castelli (recommended), and La Littorina dell'Etna.
Stromboli volcano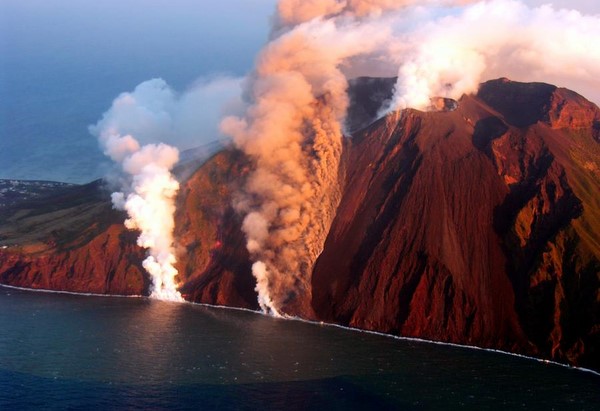 With a height of 900 meters, Stromboli is one of the very few volcanoes in the world that is in near-constant activity. It offers visitors a relatively easy access to a vantage point where its fireworks can be observed from very close range in reasonable safety. In most conditions you can hike unaccompanied to an elevation of 400 meters, but beyond this level you will need a qualified guide. A reliable guide service is Magmatrek who organises daily excursions during summer. In addition, the island of Stromboli with its particularly addictive charm, magnificient black-sand beaches, tranquil setting (no cars) and beautiful white houses, is always worth a visit.
Tennis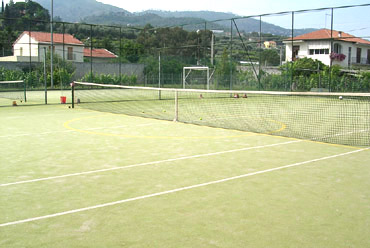 You can play tennis on the artificial grass courts of the "Tennis Club Bauso" located near Villa Comunale in Villafranca Tirrena (5 mins drive).