Sicily
"To have seen Italy without having seen Sicily is not to have seen Italy at all, for Sicily is the clue to everything...The things that enchant you cannot be counted" (J.W. Goethe, "Italian Journey", 1873).
Sicily is one of the Mediterranean's most intriguing destinations, unique unto itself rather than a mere "part of Italy". The island's landscape and sights are as diverse as its people, offering a fascinating mix of cultures imbued with a southern-Italian passion for life. The coastline alternates between sandy beaches and jagged outcrops, leading in towards the hills and plateaus of the interior, dominated by Europe's largest active volcano, Mount Etna. The land is scattered with ruins from every era of the island's history, and much of the terrain is turned to agriculture. Its strategic mid-Mediterranean location made it the coveted prize of many an empire and centuries of invasion by the Greeks, Romans, Byzantines, Arabs, French and Spanish left behind indelible marks on the island's cultural landscape.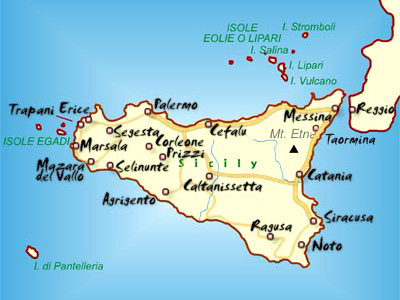 Owing to its ease of access to the motorway (2 km away), the villa is ideally located to explore eastern Sicily, including Tindari (35mins drive) with its lakes, Sanctuary and Greek-Roman remains, the charming Milazzo (25mins drive) and Capo D'Orlando (at 50mins) with their stunning beaches, the medieval town of Taormina (at 40mins), Mount Etna volcano (at little over 1 hour), the picturesque fishing village of Cefalů (at 1.5 hours), the Aeolian Islands (UNESCO World Heritage site), Messina (at 20mins) and Catania (at 1 hour) with their historical buildings and elegant shops, the walking routes and hill towns of the Nebrodi nature reserve, the late baroque towns of the Val di Noto (Caltagirone, Militello Val di Catania, Catania, Modica, Noto, Palazzolo Acreide, Ragusa and Scicli, all UNESCO WH sites), Siracusa and its historical centre Ortigia (UNESCO WH site)… thousands of years of history in one island!